Digital Album features:
13 tracks recorded live
Digital booklet with photos
English libretto translation
Andina, the opera by Colombian-American composer Eustasio Rosales was written in the 1930s and finally premiered in 2015 at a concert-style performance at the Athenaeum Theatre in Chicago. This concert recording of that first ever performance is titled "Andina, Live!"
The plot of the opera Andina
Andina is an opera performed in Spanish. The year is 1930. At the foothills of the Andes mountains in Colombia, Rosa awaits the return of a hunting party led by Don Carlos, a wealthy landowner from far away. When Don Carlos arrives, he makes his affection for her known, but a rival suitor (local farmhand Juan) does as well. When both suitors enlist the help of Rosa's family members, things begin to fall apart. Ultimately when Juan and Don Carlos get into a fight they accidentally stab Rosa, resulting in her death.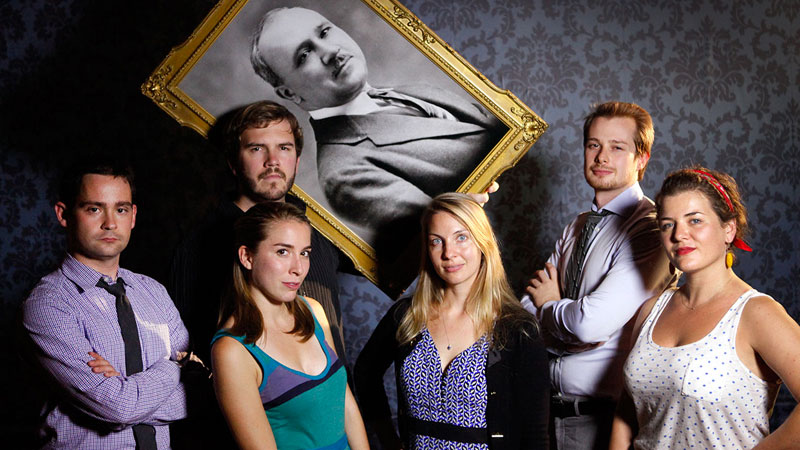 Preview the music
Listen to 30 second samples of each song.
The Characters
Rosa, a beautiful young mountain girl raised by her mother
Don Carlos, a dashing plantation owner who is visiting the countryside on a hunting trip
Juan, a local mountaineer who has grown up with Rosa all his life
Ana, Rosa's mother, who wishes to protect her innocence
Inez, Rosa's sophisticated cousin, visiting from the city
"Blends both European and Latin American musical traditions" "Rosales knew how to handle an orchestra"


"A superb and occasionally funny work"

"Executed with such grace, talent, and style"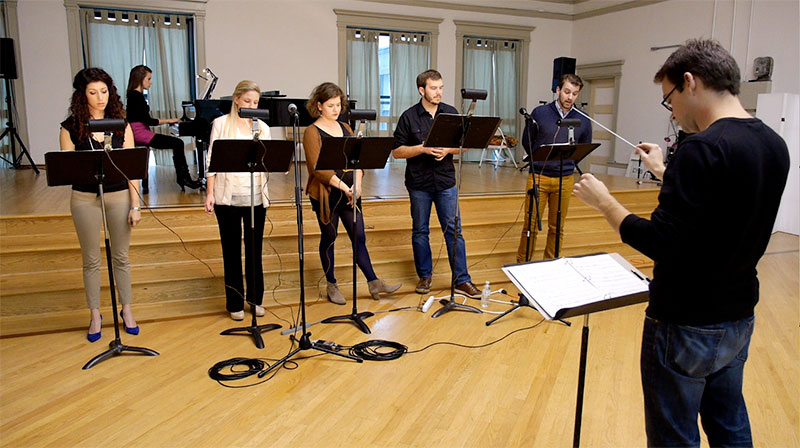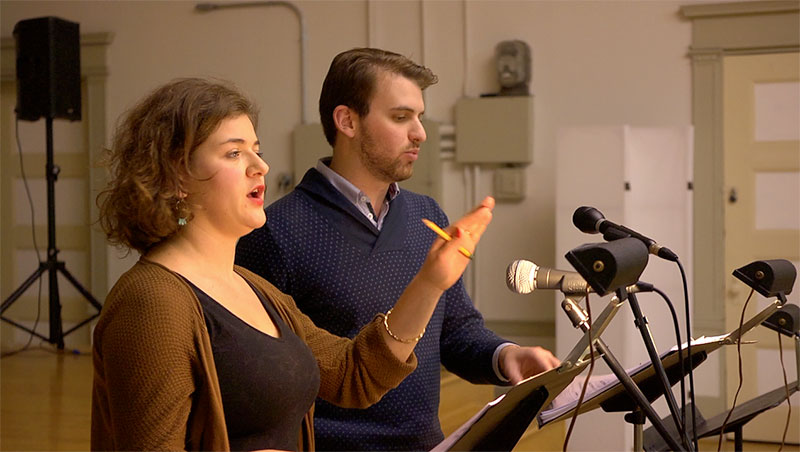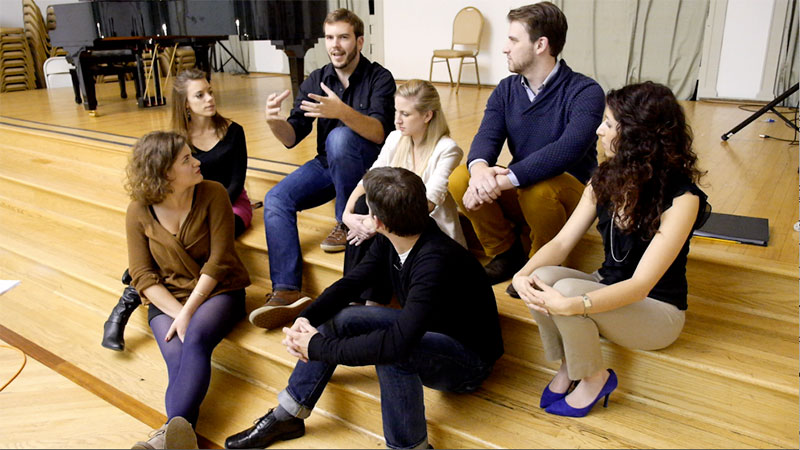 Early reactions to the long lost opera Andina
When we first popped open the musical time capsule and tried a piano-vocal rehearsal of the opera (as documented in our film about the adventure), everybody was a little surprised at how beautiful it was. Here are some of the first reactions our team had.
"I think the cool part about this is, it is a lush sound and it's dark and it's rich, especially when you add in that orchestration and then the composer was careful in picking and choosing those moments to give you that contrast," Tenor Toby Wright said. "And when it happened it didn't take away from what had already happened, it kind of added to that experience."
Nathalie Colas singing the role of Inez noted: "It has all the elements of a good drama. Very dramatic story, the characters... the music is very profound and very inspiring of this type of drama. We hear some [Giacomo] Puccini elements and there's some [Francis] Poulenc harmonies... Very romantic, it's like movie music, it just keeps rolling and it takes you, it's very evocative, it's very exciting, it's like a little treasure hunt."
"I'm also excited to hear what it will sound like with the full orchestra one day," said Rachael Kerr. "Just knowing as a pianist I can't create all the colors of a full orchestra, but I can hear the ideas in the score. So I hope that one day we get to hear that."
Evan Bravos commented from a singer's point of view, "I thought it was set very rhythmically accurate. It landed itself to the music really well and it flows off the tongue really well."
"Hearing it all together, those simple lies with the orchestra underneath it, just made it so much more epic." Soprano Angela De Venuto reacted. "The simple line had so much underneath it to drive it along. Very cinematic and gorgeous and lush. I love it."
Album credits
Music written by Eustasio Rosales
Libretto written by José Miguel Rosales
Produced by Arlen Parsa
Conducted by Christopher Ramaekers
Performed by the Chicago Composer's Orchestra
Recorded live by Sean Kirkpatrick
Mastered by Joe Nino-Hernes
Singers
Rosa (Soprano), Alison Wahl
Inez (Soprano), Nathalie Grant
Ana (Soprano), Harrah Friedlander
Juan (Tenor), Tobias Wright
Don Carlos (Baritone), Daniel Berry
Chorus
Sopranos: Mandy Shelton, Emma Danbury
Alto: Mallory Harding
Tenors: Justin Callis, Samuel Garcia
Bass: Peter Ruger
Chicago Composer's Orchestra Musicians
(*Denotes principal player)
Violin: Maya Shiraishi *concertmaster, Christine Chon*, Yoorhi Choi, Ariel Garcia, Ayako Kikuchi, Rachel Moore, Irine Roesnes, Michael Schneider
Viola: Kori Haarz*, Alyssa Roggow, Emma Strohbusch
Cello: Sarah Hansen*, Maggie Madsen, Kelsee Vandervall
Bass: Kit Polen*, Scott Bakshis
Flute: Lesley Swanson, Dalia Chin (dbl. picc)
Oboe: Laura Perkett
English Horn: Katie Adams
Clarinet: Shaun Flynn*, Patrick Rehker (dbl. bass cl.)
Bassoon: Nyketa Marshall*, Jack Sutey
French Horn: Jake Rensink*, Kelly Kondry, Renee Vogen, Sarah Younker
Trumpet: Jered Montgomery*, Derek Fitting, Ryan Berndt
Trombone: Caleb Lambert*, Nick Meryhew Bass
Trombone: Andrew Palmer
Tuba: Eric Murphy
Percussion: Jordan Hale, Ryan Packard
Timpani: Joe Beribak
Harp: Lillian Reasor