Well, this is exciting: the time has finally come!
After working on this project to resurrect my great grandfather's long lost opera for 4 and a half years, I just released the DVD for The Way to Andina, the funny documentary about the adventure for sale on my website. (There's also an online streaming version with identical bonus features.) It includes: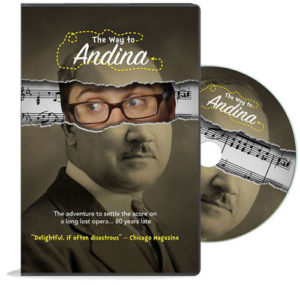 The full 70 minute documentary
4 Deleted scenes
A making-of featurette
Video of the full opera (subtitled in English)
English & Spanish subtitles
If you'd like to watch the documentary or support this project, you can now buy a DVD or watch the online streaming version. Thank you again for all your support along this journey.
The film has now played at about a dozen film festivals across the country, winning 4 awards and was recently broadcast on Chicago's PBS station. It's been a hell of a run and we're not done yet. Here's a sampling of what people are saying about the film:
"This story has everything: family, immigrants music, a love parallelogram, and a puzzle that is put together over 50 years later" – Darcel Rockett, Chicago Tribune

"Delightful, if often disastrous" — Chicago Magazine

"This is incredible… what an awesome story!" — Jon Hansen, WCIU-TV

"Truly an inspirational film" — Pepe Vargas, Director of the Latino Cultural Center of Chicago

"I'm glad no one was around…cuz a brotha was bawling by the end of the documentary!!!" — Some random dude named Mustafa on Twitter
A dispatch from the San Diego Latino Film Festival

I recently went out to the San Diego Latino Film Festival which screened the film. They showed the film to middle school students from three local schools and it was a ton of fun, although I have never had a Q&A that wild before. (Let's just say I have… a lot of respect for teachers!)
My video essay of the month
This year as part of my New Year's resolutions, I'm making one short video each month. The first one was about a type of commercial I'd love to ban from the airwaves. Here's my second video about a discovery I made that changed my mind about a very hot button political topic.
It relates very closely to the opera documentary so I hope you'll watch it. (And maybe even share it too!) I'll send you my third video next month, or you can subscribe to my YouTube Channel to get notified earlier once I publish it.
One cool thing
One of my favorite podcasts, Scriptnotes (a podcast about screenwriting) inspired me to add a new section to this newsletter. I'm ripping them off and calling it my "one cool thing"– something I discovered that I want to share with people.
So here's my first one cool thing: this 2 minute inspirational video called "The Gap" by German filmmaker Daniel Sax. It's narrated by Ira Glass from This American Life and I've watched it approximately once a year for the past several years. In fact I just recently recommended it to a creative high school student I met at a film festival who asked if he would ever be satisfied with his own work. This video speaks to me in a very profound way, and judging by the fact that it now has over a million views I don't think I'm the only one!
Until next month, your faithful correspondent is signing off.
Arlen