Three years ago I learned that my great grandfather wrote a long lost opera that's never been performed. His name was Eustasio Rosales, and we believe he was Chicago's first Hispanic composer. He came to the United States as an immigrant in the early 20th century, having been born in Bogota, Colombia. Despite not knowing anything about opera, I decided to try and put on his long lost work called Andina for a world premiere. Implausibly, the project was quite a success and we made an opera documentary film about the adventure and released the music.
A few months after we performed Eustasio Rosales' long lost opera "Andina", a group of Colombian musicians here in Chicago got in touch with me. They wanted to know if my great grandfather had written any other music that might be performable. I was curious about the musical archives too, so we returned to my aunt's basement and dug out the two boxes of Rosales' music.
Among the memorabilia was a tattered piece of handwritten piano sheet music titled "A Mother to Her Son." Here's what it looked like when we found it: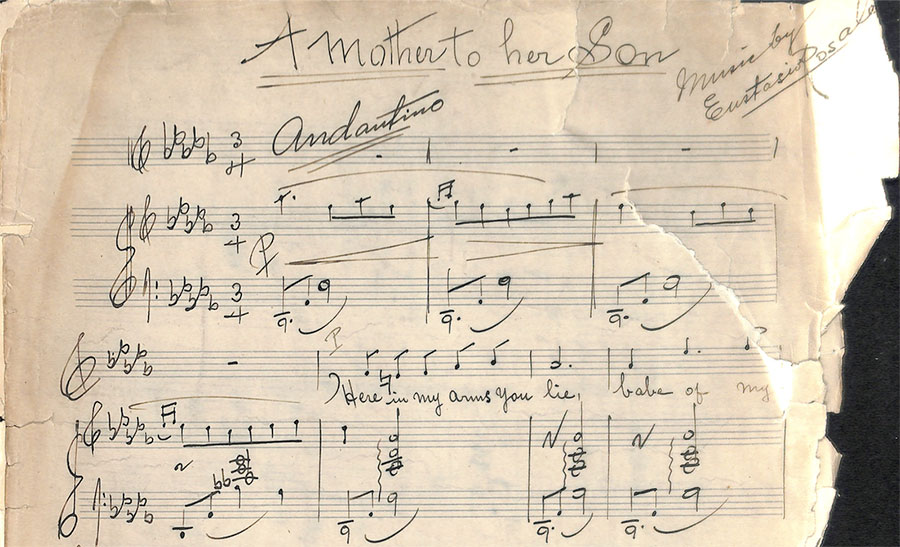 The group of Colombian musicians, Mulati ensemble worked with Crossing Borders Music to perform this piece as part of a showcase of Colombian composers in spring 2016 at the Chicago Cultural Center. It was a terrific event and I was excited to hear this vintage song by Eustasio Rosales (my great grandfather), in English no less!